What a Doll! Scrapbook Pages
I am really trying to get caught up on my scrapbooking and have a goal of two pages a week. I think I'm doing o.k. with 16 pages so far this year. I'm in the year 2001 (yes, I'm very behind!) and really want to finish that year soon.
These two pages are in May, right before my daughter's birthday. I used Alphalicious for the title at 1 inch. The rest of the cuts are from graphically speaking. I really didn't know what I wanted and just started looking at the booklet for another page I was doing next. These cuts were perfect!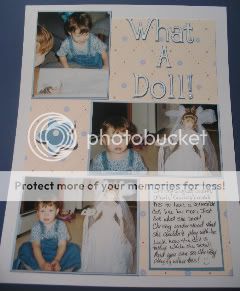 Thanks for looking!